It's time to decorate my tree and I wanted to do something a little different this year! When brainstorming different holiday trends I landed on a monochromatic tree. Sticking to one color for the tree can be a common concept I suppose when you think of all the red or white trees out there. But after a quick trip to the store, I browsed the ornaments and landed on blue to create a pretty Christmas tree this year.  I wanted to try something different and not your usual red, silver and white color scheme.
There were a few other fun and colorful ornaments like blush and purple, which would've been a fun take too. But I'm a big fan of all things blue so decided to grab all the blue ornaments I could find and got to work. And when I say all of the ornaments, I mean it. My cart was overflowing with pretty blue ornaments and decor.
6 Tips To Creating A Monochromatic Christmas Tree
I grabbed about 3 dozen of these standard glass ornaments which I planned to use on most of the tree. Then I found a few colorful sets that included different shades of blue ornaments and some fun shapes like these stars. I grabbed those to add in to the tree for some depth and texture. I figured I'd store the other colors for next years Christmas tree. Don't worry, I already have some ideas for next year as the sets had lots of copper and blush in them. My mind is already planning next years' tree. Too soon? Maybe, but the ornaments were too pretty to not consider reusing next year.
While blasting some classic Christmas songs (oh and that good 'ol Mariah Carey) I started to decorate my tree. After placing all the blue ornaments I could find onto the tree, I added in a few white and silver ones too. It helps to round it all out and compliments the blue. In addition to the ornaments, I always like a little natural element on the tree. Since my tree is fake, it's nice to add some natural pieces in. I upgraded my horrible college fake tree to this pretty one. It was a bit of an investment, but worth it. It was such a good choice and looks so much more real without having to deal with the real tree mess. Having the pinecones is a nice touch and adds some different texture throughout the tree.
Next, I wanted to make sure the whole space felt monochromatic, and not just my tree.
This space is part of my office which includes a gallery wall and my little grey bench. By just swapping out the non-blue art with some festive pieces, it really helped to transform the whole space. I found this gorgeous wreath and fun noel print as well and it was a great way to update my gallery wall for the season. Adding a few navy pillows to the bench helped to make this entire space feel cohesive. I officially have a blue Christmas tree and I couldn't be more excited about how it came out. Now for my decorating tips to creating the prettiest Christmas tree every time.
Choose A Color That Suits Your Home Decor
I went with blue because there's quite a bit of navy and blues in my home. My living room has a bit of pink in it which works as a great complementary color to the blue in the tree. If you're house is entirely blue, adding a purple tree may feel a little out of place. If you're eclectic, don't worry, you can totally do a bunch of colors too, just choose to either use muted colors, or primary colors. Just stick to something so it's cohesive. But personally, I'm sort of obsessed with the monochromatic theme now and it's so easy!
Find Ornaments Within A Few Shades Of Each Other
Doing the entire tree in just those blue glass ornaments would've been one boring tree. Sure it would have been monochromatic for sure, but oh so boring. Finding a few other ornaments in darker and lighter shades of the blue helped to round out the whole tree. If you still need some more ornaments, add in a neutral like gold, silver or white, but keep them to a minimum so that the color you chose really stands out. I decided to just add in some silver and white and left the gold out. But gold and blue would be nice too. Again, don't pick too many, try to keep things simple.
Add In Some Texture
Again, all round glass ornaments would've been too simple. The fact that some were matte helped, but it wasn't enough to just use those. I found these fun stars and interesting spheres that helped to add some interest and texture to the tree. Just like when you're dressing up a room, adding different patterns and textures are important.
Look At The Whole Space
Does your tree back up to a wall of art, does it sit in a corner all by itself? Keep in mind the things around it and how you can incorporate your color scheme into that area. If your tree sits in a corner all by it's lonesome, think about adding a pretty basket with extra pillows and throws, or a few festive pieces of art and a wreath. Now when you walk into the space, you know it's a blue Christmas for sure!
Repeat, Repeat, Repeat
If you only put round ornaments at the bottom, and a completely different shape elsewhere, your tree will look a little out of whack. Repeating the same color scheme and shapes throughout the entire tree is important no matter what color or style you choose.
Buy Enough Ornaments
When decorating a standard 6 or 7 ft tree you want about 3 to 4 dozen of the same base ornaments. My tree backs up into a corner, so I don't even bother with the back 1/3 of it. So I did a little over 2 dozen of the glass ornaments, and then mixed in around 2 dozen of the other blue ornaments. I then have about one dozen of the silver and white to add some depth.
---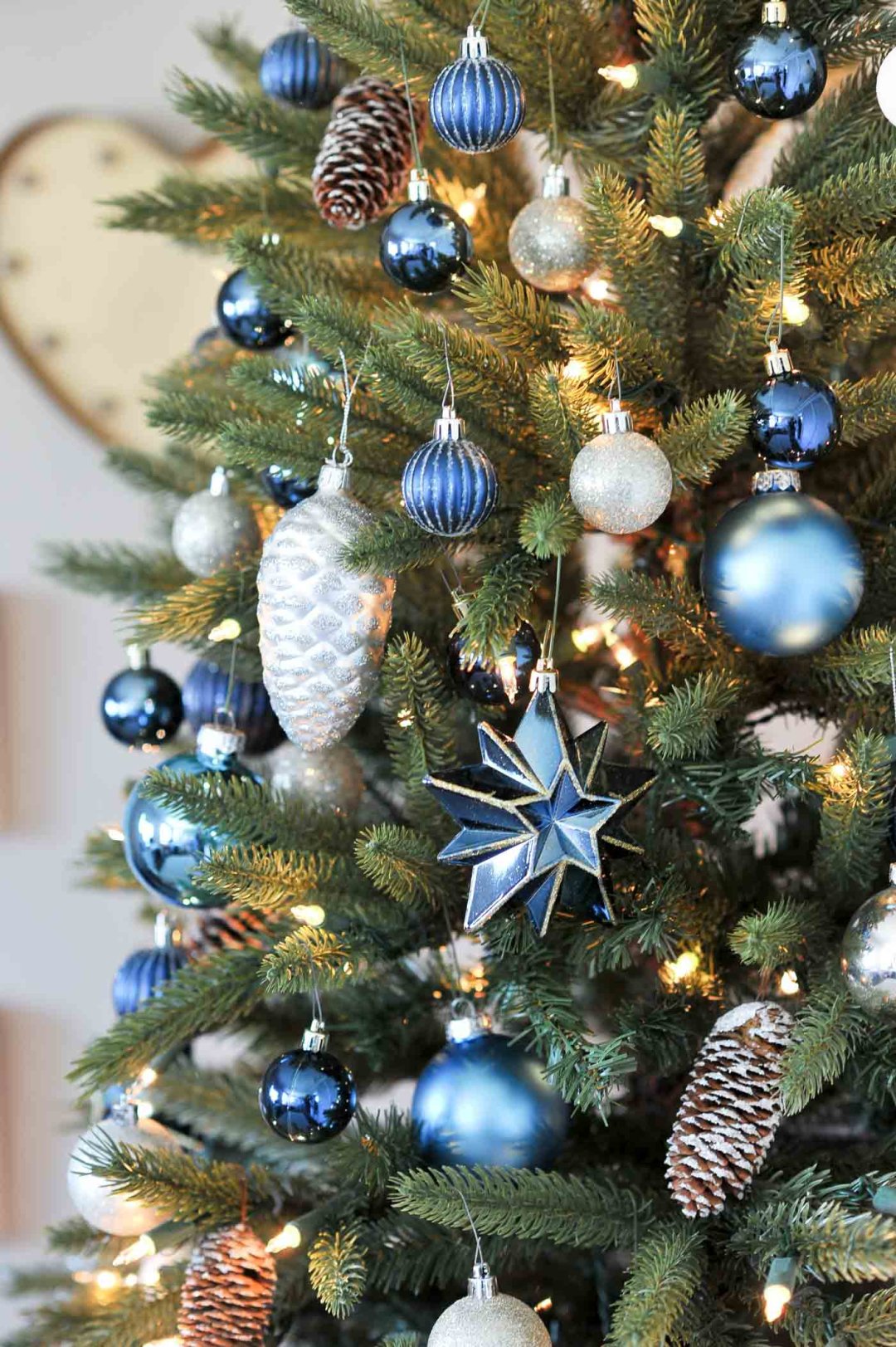 ---
Shop The Post